20 Rooms, 5 Suites
The award-winning luxury fitness and wellness retreat, The Ranch Malibu, recently expanded its offering to Fiuggi Italy (just 45 minutes outside of Rome) at the renowned medical retreat Palazzo Fiuggi. Guests enjoy an all-inclusive experience featuring classic accommodations in various categories, picturesque morning mountain hikes, afternoon strength and core training classes, yoga, meditation, daily massages and Michelin-starred plant-based meals.
Guests routinely lose 3%-6% of their body weight along with substantial inches of fat loss, muscle gain and improved cholesterol levels. Whether for leisure travel, group retreats or full buyouts, The Ranch guests will be challenged in new ways, gain mental clarity and adopt sustainable healthy habits.
Limited to 25 guests maximum per week, our highly knowledgeable staff tends to your every need and is trained in all aspects of fitness and rehabilitation to support and nurture guests while guiding them to achieve personal program goals.
ABOUT THE RANCH ITALY AT PALAZZO FIUGGI
4-Night Option: Thursday - Monday
7-Night Option: Thursday - Thursday
The optimal environment for regeneration, surrounded by nature and nestled in a tranquil valley
with a history of healing, just 50 minutes from Rome.
Located on an ancient hilltop, surrounded by centennial sequoia trees, in a private 20-acre park, Palazzo Fiuggi is a historic property nestled in one of Italy's richest naturalistic areas. Known for the unique healing powers of its water since the early fourteenth century, the region was often visited by royalty, popes and masters of the Renaissance, including Michelangelo, for its restorative qualities.
At 700 meters above sea level, the newly renovated retreat offers clean and pure oxygen-rich air that creates the ideal altitude for personal transformation. The luxurious property and five-star service mirror what is offered at The Ranch as guests stay in private accommodations with views overlooking the grounds of the park or "old town" of Fiuggi.
Exclusive Amenities
$100 USD Hotel/Resort Credit
Welcome Amenity
The following amenities are subject to availability at check-in:
Early Check-in at 12:00 PM
Late Check-out at 3:00 PM
Room Upgrade (applicable to rooms and junior suites)
The following amenities are not exclusive, but apply to your booking:
Full Breakfast for two, daily (not available through room service)
50–Minute Massage, once during stay
Complimentary WiFi (throughout hotel)
Daily Hikes, Fitness Classes, Yoga, Meditation
Daily Lunch, Dinner & Snacks
Medical Evaluation & Blood Work/Diagnostic Screening
Return Airport Transfer to FCO
Exclusive Suite Amenities
$200 USD Hotel/Resort Credit
Address
Via dei Villini, 34
Fiuggi, Italy 03014
Nearby Airports
Check In Time
3:00 PM
Check Out Time
12:00 PM
---
Accommodations
At Palazzo Fiuggi, guest rooms are beyond luxurious. Flooded by natural light and offering views across the park, towards the old town or the pool, each room features smart contemporary styling that complements the Liberty-period provenance of the historical building. Adorned with objets d'art, rooms exude character and charm and create a comfortable and relaxing backdrop to every visit.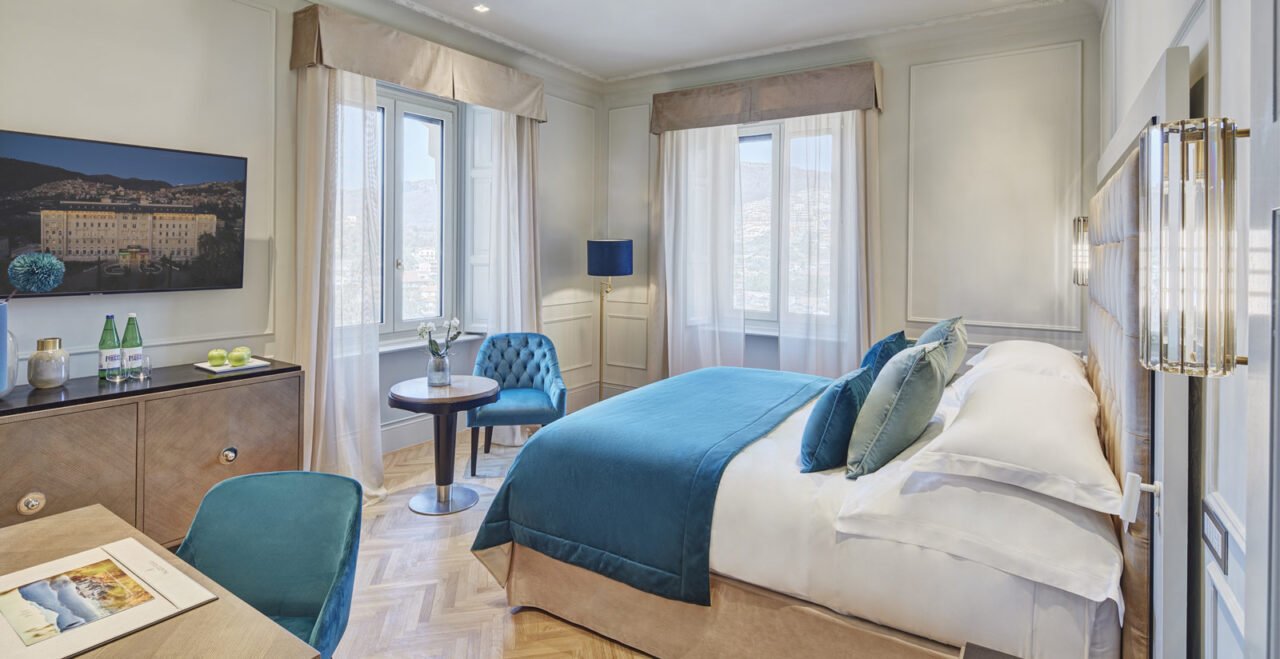 Charme
Charming 30-37 sqm room with expansive view; some with a balcony or terrace.
320-390 sq ft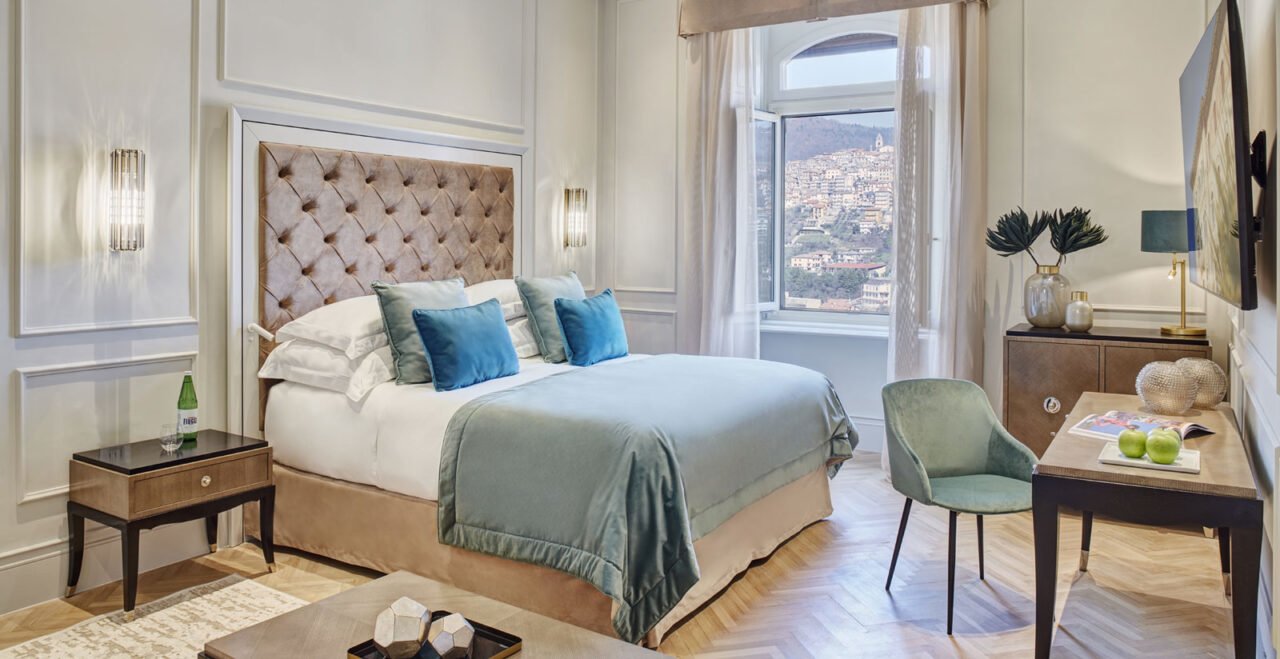 Prestige
Elegant 340-400 sq ft room with living area. Panoramic view; some with a balcony.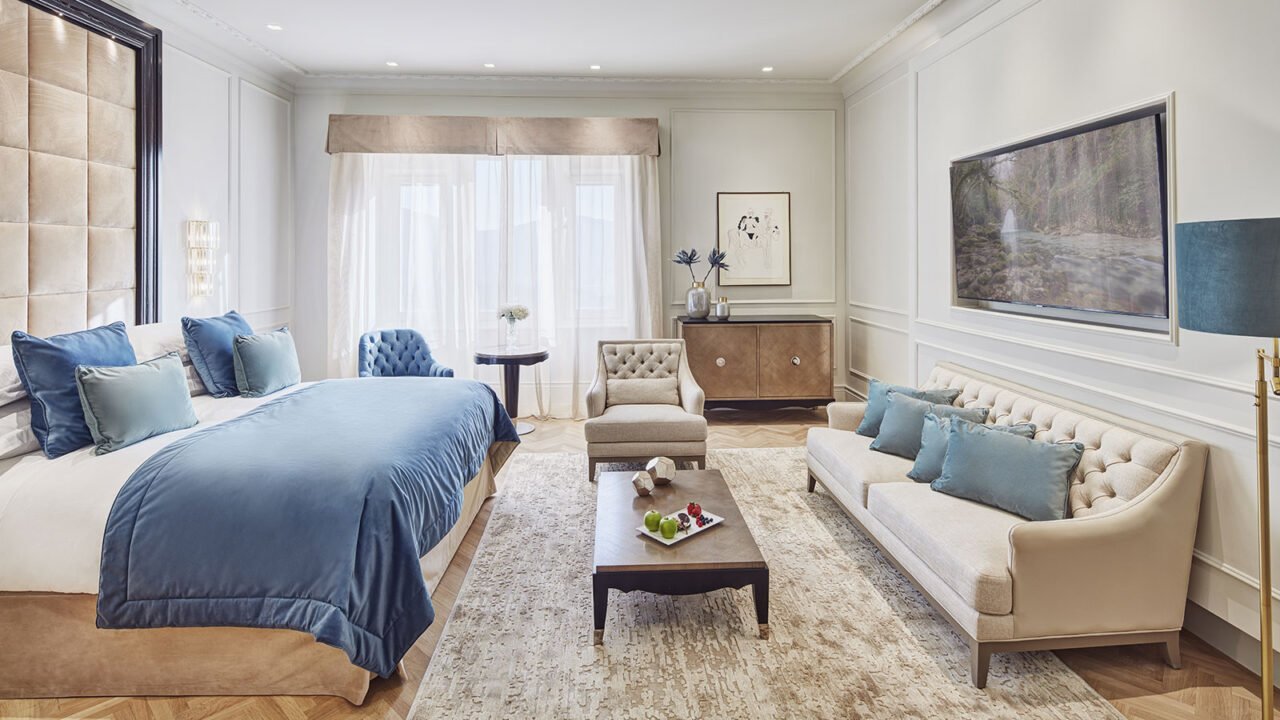 Junior Suite
Spacious 400-520 sq ft suite with living area, bedroom, bathroom with bath and shower. All offer superb views; some include a balcony or terrace. The suites incorporate mellow parquet flooring and are furnished with luxurious fabrics such as linen, cashmere and velvet. The decorative schemes are unique in each case, accessorized with antiques and objets d'art.
Previous
Next
---
Dining
In-Room Dining
Restaurants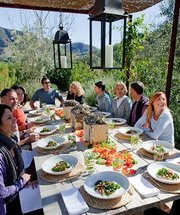 The Ranch
Inspired by nature, our artfully prepared, organic plant-based cuisine is a highlight for our guests and a key component of our results-driven approach to health and fitness. The Ranch team has been cooking with plant proteins for more than 20 years and is passionate about offering complete, nutrient-dense meals with an element of surprise. This nutrient rich food fuels your active days, promotes weight loss and builds a healthier mind and body.
Using ingredients sourced from our onsite certified organic garden or nearby local farms, research and care has been strategically stirred, sous-vide-d and baked into every nutritionally balanced bite. Our chefs are constantly adjusting the menu, based on what's in season, and draw upon the latest technologies and techniques to satiate guests with familiar flavors.
Previous
Next